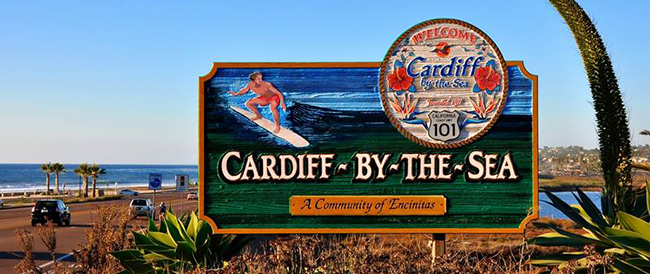 Life in Carlsbad
Located along two miles of the Pacific Ocean between Solana Beach and Encinitas, Cardiff-by-the-Sea is a classic California beach town. It is colloquially referred to as simply, "Cardiff". Cardiff real estate is some of the most desirable in all of San Diego.

Cardiff was founded in 1911 by developer J. Frank Cullen. The community was named in honor of his wife's native Wales and many streets have English names. A later developer, German musician Victor Kramer added the "by-the-Sea."
The dominant geographic feature of the area is The San Elijo Lagoon. Home to more than 700 species of plants and animals, the 900-acre ecological reserve is one of the few remaining coastal wetlands in the county.  The San Elijo Nature Center is open every day from 9-5.

The community of Cardiff takes pride in its "walkability" with the beach, great waves, San Elijo lagoon, parks, restaurants, markets, post office, library, and other community assets in easy walking distance to each other. Cardiff is known for a few of its very popular food items: VG Donuts, the Tri-Tip Sandwiches (Cardiff Crack) at Seaside Market, and Besta-wan Pizza.

One famous surf spot is Cardiff Reef, located alongside Historic Highway 101 at the mouth of the lagoon. Another prime surf spot is called the Pipes. Because Cardiff is bordered by Encinitas to the North, residents can also take advantage of the great surfing at Swami's.
The San Elijo Campground is situated on prime property on the bluff along the two miles of beach. In the mornings there is the scent of campfires and breakfast cooking. Train tracks run alongside the Coast Highway and you can hear their whistles blow as they approach the intersection at Chesterfield. Recreational areas include Glen Park, with tennis and basketball courts, a children's play area and picnic tables.
Source: townblip.com
Cardiff Real Estate: Driven By Lifestyle
The population of Cardiff is approximately 12,000. While it has its own zip code, 92007, Cardiff operates as part of the city of Encinitas. The median price for Cardiff real estate in 2014 for a single family home was $1.3 Million. The median price for Cardiff condominiums sold in 2014 was $587K.
Prime real estate is found along the 101, facing out to the San Elijo Campground and the ocean beyond.