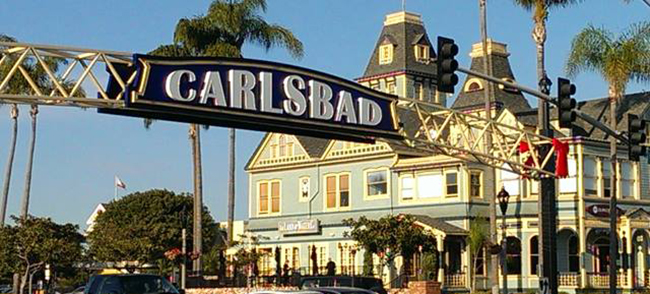 Walking along the coast at sunset with a warm ocean breeze, it's hard to imagine a nicer place to be. Carlsbad's beautiful location, combined with its diverse economy make buying Carlsbad real estate a wonderful choice!
Life in Carlsbad
With a population of just over 100,000, Carlsbad is able to maintain 40 percent open space filled with state preserve, community parks and trails.
"Parks and Recreation helps create Carlsbad's small-town feel by connecting people at our events, on our trails, and through fun, quality programs for families, seniors, teens and adults," said John Coates, director of Carlsbad Parks and Recreation. "Residents of Carlsbad are well educated, informed and involved in their community. They appreciate the city's rich heritage and natural beauty. They have high expectations, and the City of Carlsbad is committed to meeting them."
Charming Carlsbad Village, where businesses, artists and eateries are located, compliments the natural beauty of Carlsbad's coastal community. The Carlsbad Village Association supports the local community by developing relationships between a variety of business and property owners and local artists and members of the community. Monthly "Thursdays on the Coast" art walks allow patrons the opportunity to enjoy extended business hours for shopping, eating and a sampling of local art.
"Carlsbad Village is such a wonderful community to live, play and work in," said Robin Young, director of the Carlsbad Village Association. "It's a great mixture of a beautiful beach town and a fun and active business and entertainment district."

Businesses in Carlsbad contribute to the excellent quality of life by providing diverse job opportunities, clean operations and a strong, diverse economy. Tourism, recreational and lifestyle companies, and cutting edge high tech and biotech industries form the backbone of our city's economy, while small and niche oriented businesses provide balance and variety to the business community.
For many, Carlsbad is a destination for family outings and weekend trips. Among the many attractions in the area, LEGOLAND California is located just east of I-5 in central Carlsbad.
One popular San Diego activity is the spring tradition of a visit to The Flower Fields, some 50 acres of privately owned land located on Paseo del Norte in Carlsbad. The event lasts for several months, so long as the Ranunculus flowers remain in bloom.
Whether a local golf veteran, or a visitor, The Crossings Golf Course and Rancho Carlsbad Golf Courses are open to the public and feature 18 Holes.

Carlsbad has many five diamond luxury resorts. The La Costa Resort and Spa is Carlsbad shining star. Championship golfing, amenities, and spa services make La Costa a go-to place for both local and out-of-towners. At the Park Hyatt Aviara Resort, indulge in massages and facials or take a swim in one of the many pools. You can even play a few rounds on the green courses that complete the resort grounds.

Carlsbad's beguiling beauty, which incorporates a storied Village and the Pacific Ocean as a backdrop, conceals a thriving business culture built not only on tourism and recreation, but on biotech, agriculture and varied small businesses.
Source: townblip.com
Carlsbad Real Estate
Nestled about 30 minutes north of San Diego, Carlsbad is one of the most desirable places to live, work, and play in San Diego. The City of Carlsbad boasts a seven-mile-long stretch of coastline surrounded by mountains and lagoons such as Agua Hedionda and Batiquitos. Carlsbad is comprised of four Zip codes 92008 (NW Carlsbad), 92009 (SE Carlsbad), 92010 (NE Carlsbad), and 92011 ( SW Carlsbad). The southern areas, which included the La Costa areas around the famous resort and spa of the same name, had the highest median price for Carlsbad real estate in 2014 ($790,996). The northeast area had the lowest median price ($592,444). In the northwest zipcode the median price for Carlsbad Real Estate was $709,363.