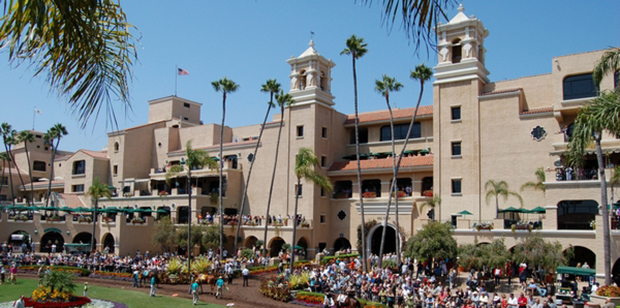 "It's a small town and community, so when you invest in Del Mar Real Estate, you are not just buying a home, you are buying what the city has to offer," said John Wingate, owner of En Fuego. "Del Mar is a vibrant, unique and walkable community. And it's only getting better."
Pictured as a seaside resort for the rich and famous in 1885, Del Mar has grown into a unique destination point for visitors and remains one of the most desirable places to live in San Diego, if not all of Southern California. Defined by beautiful lagoons on each end, this charming town is best known for its exceptional weather, thoroughbred racetrack, the San Diego county fair, fabulous beaches, haute cuisine and unique shopping, according to Mayor Richard Earnest. With a population of approximately 4,500 in the 2.1 square mile coastal area, Del Mar offers an oasis of unhurried, peaceful, living. Del Mar real estate is highly desired by those that can afford it.

Del Mar Village features a unique collection of boutiques stores such as Dexter's Deli for Dogs and Cats, Urban Beach House Apparel and Gifts and Loghman Fine Jewelers. Dining options include such award-winning spots as Sbicca Bistro, Bully's Del Mar, Poseidon, Pacifica Del Mar, En Fuego and Del Mar Rendezvous.

The Del Mar Village Association works in conjunction with local businesses in Del Mar to support the community. "We are made up of business owners, merchants and residents who are basically all working together to help with the vitality of the downtown area," said Jen Grove, Executive Director of the Del Mar Village Association. In addition to Del Mar's eclectic downtown village, Flower Hill Promenade, located on Via de la Valle, is frequented by residents and neighboring community members. The local plaza features dozens of shops and restaurants such as Pangaea Outpost, Wholefoods, Starbucks, Fair En Del, Beach Bungalow Designs, Cucina Enoteca, Sweetpea Children's Shop, Swell Cafe, Venissimo Cheese, Sea and Smoke, and Milton's Deli.
"After I left Del Mar, I went to undergraduate at UCLA and ended up in Northern California. I tried to recreate living in Del Mar throughout the other cities and walkable communities in California I have lived and I have to say, there's no place like home. Del Mar is one of the few places I can think of where you can live this close to the ocean, a downtown village shopping area and have the feeling of how things used to be, pre-strip malls," said Grove. "The fact that I can give the gift of living in Del Mar to my kids is huge."
Recognizing it's obviously ideal coastal location, the city of Del Mar takes efforts to maintain an environmentally-friendly community. Seagrove Park and Powerhouse Park boast gorgeous ocean views and access to some of the community's favorite surf spots such as 15th street, 17th street and 8th street. Del Mar's beaches stretch over two miles, bordering Torrey Pines State Park in La Jolla to the south and Solana Beach to the north. Local residents are often found running or walking the coastal trails on the bluffs and taking advantage of low-tide conditions at the beach.
Del Mar's North Beach at the river mouth, referred to by local residents as Dog Beach, is a favorite spot for dog lovers, volleyball players and surfers. These areas provide a unique vantage point to enjoy wildlife and the natural surroundings.
The majority of residents are very concerned about the environment and have a vested interest in maintaining the community and in making sure the neighborhoods remain unique, not just for Del Mar residents to enjoy, but for everybody.
Design Review Ordinances exist in the city to protect Del Mar real estate by fostering and encouraging good design, which encompasses the use of harmonious materials and colors, compatible proportional relationships and appropriate use of landscaping.
"I grew up in San Diego and have seen how this community has grown over time," said Walt Beerle, vice president of Union Bank in Del Mar. "One of the things that struck me about the community is the active participation of citizens and residents within Del Mar."
Source: townblip.com
Del Mar Real Estate
In 2014 the median price of a single family home in Del Mar was $1.6 million, significantly above the median price for a home in San Diego County. The Del Mar real estate market currently offers a number of attractive opportunities for today's home buyers.